Your facility uses energy and you pay your local utility for it, day after day, year after year. It's a basic cost of doing business. However, excess power usage wastes business resources and decreases your hard earned profits. If you do not act and improve your energy consuming systems, your aging facility infrastructure becomes increasingly less efficient.  Additionally, your excess energy use has a negative impact on the environment and your company sustainability plan.
Do you realize that you may have an opportunity to modernize your facility with energy saving technology with zero money out of pocket, guaranteed savings, and zero risk? You will never have to write a check to upgrade your system.
Yes, it is possible that you can take advantage of Logical Green Solutions' True Value Performance Contracting program where you can reduce your business operating expenses without spending additional capital or resources. True Value Performance Contracting overcomes the common barriers that often prevent businesses from lowering operating costs and improving environmental sustainability.
Benefits
Upgrade Your Infrastructure
You receive energy saving technology to optimize your facility efficiency.
Lower Your Energy Costs
We share the energy saving incentives and verified savings with you. You retain all tax benefits.
Costs You $0.00 Out of Pocket
Unlike other approaches to improving your facility energy efficiency, True Performance Contracting provides you with:
Zero cost for evaluation and planningZero energy saving equipment cost
Zero labor cost for installation and monitoring
Zero use of your existing capital
Zero debt – no need to use your corporate credit
Zero additional monthly cost
ZERO RISK
Guaranteed Savings
You will receive guaranteed savings – at percentages that are clearly identified upfront. At the end of the agreement period (typically 3 to 5 years) the ownership of all equipment and ALL future savings will revert to you, 100%.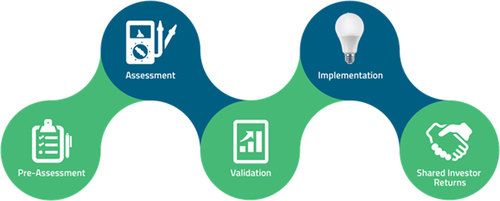 Pre-Assessment
Determine potential savings to justify an Assessment.
Evaluate key indicators:
Existing cost
Operations
Facility systems
Multi-site opportunity
Assessment
Further investigate and develop:
Equipment efficiency
Data verification
Cost structure
Solution development
Competitive bidding
Provide Findings Report
Validation
Validate existing conditions and findings:
Install and monitor sub-metering infrastructure
Confirm / modify findings report
Provide Validation Report
Implementation
The project management, get it done phase:
Order materials
Award Contracts
Schedule installation
Manage project
Training and commissioning
Apply for incentives and rebates
Experience the Benefits
Lean back and experience the benefits:
Receive guaranteed savings
Experience the improved energy saving technology
Monthly Validation
Can you receive the benefits of True Performance Contracting?
Depending on your specific business and facility systems, you may be able to take advantage of True Value Performance Contracting to save between 15% and 30% of the energy that you currently use and, as importantly, the money you're paying in energy costs. Scan the list below to see typical industries where True Value Performance Contracting may be your best solution. If your business isn't on this list, we may still be able to work with you – we'll simply review your operation to see how we can help.
Commercial
Beverage/Liquor
Retail
Grocery/Supermarkets
Health Care
Manufacturing/Industrial
Logistics/Distribution
Parking Structures/Lots
Auto Dealers