When purchasing any hemp product, it's important that you receive a certificate of analysis (COA) with it that is valid for the product. This COA is not only needed to transport to product legally, but also gives you information on the cannabinoid content and more.
While it is important to have a COA, it's also important that you have a valid COA with valid data. The hemp industry in the United States is a bit like the wild west. You never know if what you're getting in snakeoil. We have seen a number of fraudulent or misleading COAs, and we want to educate you on what to look for/how to spot them.
What is a COA?
If you're unfamiliar with a COA, it is a report issued by a third-party hemp testing laboratory, which certifies potency and quality. These third-party labs typically test each batch of hemp product for:
Cannabinoids
Pesticides
Heavy Metals
Residual Solvents
Terpenes
Mycotoxins
Microbial Contaiminants
Of the above, the only federally regulated component of the COA is in the cannabinoids — the THC level, specifically. Federal law states that THC levels must be 0.3% or lower to be considered a hemp product; anything higher is considered marijuana.
Note: While federal law states that THC levels must be 0.3% of lower to be considered a hemp product, some state programs determine hemp status by only delta-9-THC. This can cause further complications that we will go over later in this article.
How to Identify a Fraudulent COA
As you may have noticed, when purchasing seeds/seedlings from Logical Green Solutions, we provide a custom testing prepackage that cwill allow you to maximize cannabinoid production while staying compliant with THC regulations, plus receive professional third party testing from an independent testing laboratory.
This is included at no cost to you on any seed orders over 100,000 units or any seedling orders over 6000 units — otherwise, we can pass this onto you with your order for smaller order quantities.
These tests are offered through our testing partner for these services — Adams Testing in Fargo, North Dakota. As experts in the testing field, Adam's Testing recommends the following to identify a fraudulent COA.
1. Verify if the COA has a QR code. QR codes are hard to tamper with and people are already refusing to go to labs that don't use them. Once you've located the QR code on the COA, scan it using an app or the camera feature on your phone (depending on your mobile device) and carefully verify that it matches the paper COA you have in your hand. Manually altering the paper form will not automatically change the QR code version.

2. Check the server the QR code is hosted on. When you scan the QR code, you should be directed to a laboratory information management system (LIM System) (e.g. Confident Cannabis). If you're not sure the system is legitimate, you can reach out to the lab and ask them.

3. Review the COA for anything out of the ordinary. It's common for individuals fabricating COAs to use snipping tools to alter or move result items. You can always check the name at the top of the COA first. If it appears altered, that's usually a good indicator that results have also been tampered with and you should proceed with caution. Be sure to keep an eye out for different font styles/sizes, column and row items not aligning, crease lines, and shadows. One of the most common areas to alter is the CBD percentage. The higher the percentage, the higher the sale price.

4. Confirm the results are recent. The testing date should be along the top of the COA. Some people will use old results for new products, or even change the date to make it appear current.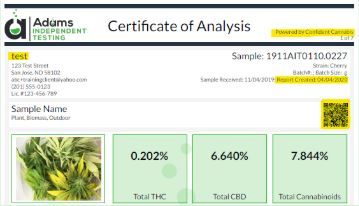 5. Ensure the document is an official copy. Reputable organizations will send a pdf. COAs should never be copied or scanned. (Another reason to always check the QR code first. It's the most important component of a COA.)

6. Make sure the photo and description match. For example, buds leverage a higher potency/cannabinoid content than stems and leaves do. Some people may only provide you with the bud results, but the product they're selling is biomass material. Biomass material includes stems and leaves, which contain lower cannabinoid content than buds do but add extra weight.

7. Double-check equations. Yes, you read that right—there's math in this step! First, it's important to know that labs do not test for Total THC and Total CBD in their high performance liquid chromatography (HPLC) machines (the machines most used to determine cannabinoid content levels). These figures are actually determined using equations, which can usually be found beneath the Cannabinoids section of the COA.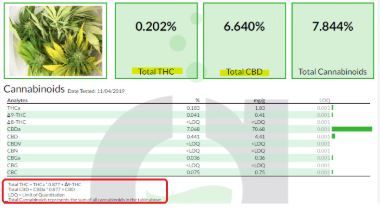 In the example above, THCa is multiplied by 87.7% + delta-9 THC. Despite these equations being mostly regulated, some people will use different ones. In other words, their COA results are accurate, but a different formula was used. Now, this doesn't necessarily mean that the intent was to mislead consumers. Some of the current laws are ambiguous and can easily be interpreted to mean different things to different people, which results in inconsistencies like this. That's why it's always important to verify.
Specifics to Watch Out For
While using the above steps, here are some more specifics that can help you determine if a COA is fraudulent or misleading.
Look at the Limit of Quantification (LOQ) – The LOQ is the lowest concentration of a substance that the lab will test down to, which is usually defined in parts to billion or parts per million.

If any of the test results state ND (none detected) or 0%, it may mean that the amount if under the lab's LOQ. The document should also state what the LOQ is.

Watch out for "THC-Free" – If a COA states that there is no THC in a product, you will want to verify the LOQ. As CBD develops in a product, the THC amount also increases. Some dubious COAs will have LOQs as high as 0.5%, which is well above the federal legal limit.
Ensure that the COA has a batch number and size – This is not determined by the lab, but by to producer of the product. In addition, there is no Federal standard regarding how often a producer needs to test or how much, and batch numbers aren't even in a requirement in all states. However, having these on a COA shows that the producer takes quality and compliance seriously.
Watch out for high THCa reported on a COA and a low total THC – Some state requirements only test for delta-9-THC, which can sometimes lead to a product with high THCa being stated as having compliant total THC values. However, roughly 87.7% of THCa should be converted and added to the total THC value. Thus, a product that may be legal on a state level may not be legal on a federal level. This is especially important to be aware of if transporting product across state lines.
Verify which parts of the plants were tested – This is especially important for COAs regarding seeds. To accurately test for total THC and CBD values, the lab should be testing the flowers of the plants. However, we have seen some tests conducted which use the full plant which drastically lowers the stated total THC. This is extremely misleading and can lead to "hot" product that must be destroyed.
Still Unsure If the COA is Valid?
If you're still unsure if the COA you have is valid, one step you can take is to contact the lab that issued the COA. According to Adams Testing, lab "results are confidential, so the lab likely won't be able to divulge any specifics unless they're speaking with the individual or company it was issued to; however, there is a workaround. In most cases, you can read the results to the lab and ask them to confirm (yes or no) if they're correct. At the very least, they should be able to verify whether they have results on file for that sample identification number."
In addition, you can always contact our team here, and we will take a look for you. However, if it is highly in question, we recommend working with a reputable team. Our goal is to help you succeed from seed to sales, and we likely have what you need in our strategic network.