If you're growing your hemp crop indoors, you have encountered the variety of lighting options: Ceramic Metal Halide Lighting, High Pressure Sodium Lighting, Dual Arc Lighting, and even LED Lighting.
Our goal at Logical Green Solutions is to assist you from seed to sale. When it comes to lighting and lighting systems, we have over 20 years of experience. If at any point you have any questions about lighting (or any other aspect of your hemp business or the industry), please reach out to us. Our goal is to help you succeed.
The first thing to understand with lighting for your hemp facility is that there is a big difference between lighting for people and lighting for plants.
Lighting for Plants: PPF and PAR Efficacy?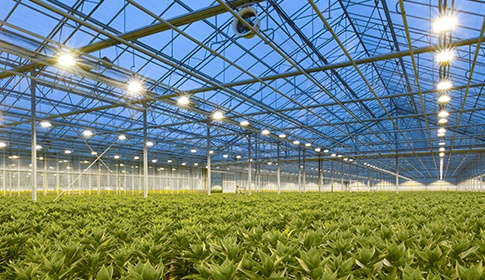 When determining your lighting for plants, you need to look at the light's photosynthetic photon flux (PPF) and the light's PAR efficacy. Knowing the PPF value of a light source allows easy comparison of the total light output which contributes to photosynthesis. The unit used to express PPF is micromoles per second (μmol/s). PAR efficacy is the measurement of how much photosynthetic light your lighting produces per joule of energy used (μmol/J).
More energy efficient lights with a higher PAR efficacy are recommended for indoor growing. When it comes to grow lighting, the higher the PAR efficacy or μmol/J, the better.
Note: If you see a lighting fixture giving its light levels in lumens, note that this is not just the light that is usable by the plant, and is instead the light that humans will see. This is not a useful measurement for grow lighting. Occasionally you will see lighting advertised that lists the lights life using an L70 report (which shows how long before the light drops down to 70% of light emitted). It is important to note that photosynthetic light emitted starts to degrade at 90% of the lighting diodes power, whereas the human eye won't notice light degradation until 70% (which is typically why L70 reports are used).
Which Lights Have the Highest PAR Efficacy?
Generally, 1.5 umol/J is considered efficient when it comes to light available for plant photosynthesis and growth. Anything above 2.0 umol/J is considered very efficient. For comparison:
Many high-pressure sodium (HPS) fixtures on the market have an efficiency of 1.3 umol/J or less.
Some of the best high-pressure sodium (HPS) grow lights approach 1.7 umol/J.
The best ceramic metal halide grow lights have an efficiency of just under 2.0 umol/J.
LED grow lighting can go up to 2.5 umol/J.
This means that LED grow lights are the most efficient for your growing operation and will help you maximize your harvest.
What Are LED Grow Lights?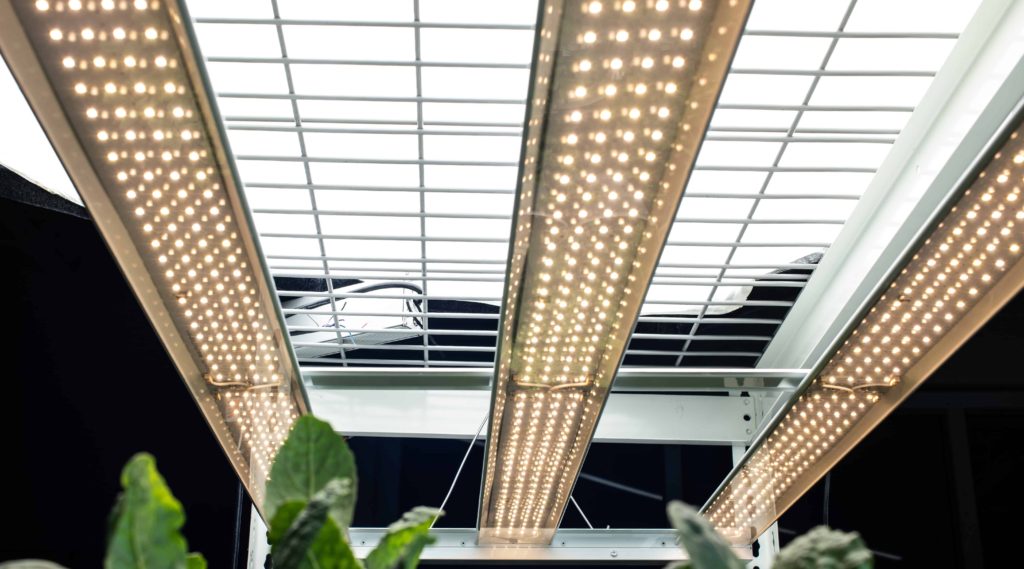 The best LED grow lights are made specifically for growing high-THC cannabis and growing hemp. LED grow lights are far more energy-efficient when compared to standard halogen, fluorescent, or metal halide grow lighting. Unlike traditional grow lighting, LED grow lights can be specifically tailored for the particular spectrums needed for your specific grow stage.
By controlling the spectrum of light that your cannabis and hemp plants receive, you can control the specific growth stage of your plants. You have more direct control over when the plants flower, which greatly increases your yield.
How Do You Use LED Grow Lights to Control the Plants' Growth Stage?
When growing high THC-cannabis and hemp plants in natural sunlight, the time of year controls the plants' growth stage. In spring and summer, for example, more blue light hits the Earth. The spectrum of light changes depending on the season, and it tells the plants what to do. (Growth rate, flowering, budding, etc). By using LED grow lights, you can control the spectrum of the light that the plant is exposed to at different points in its growth cycle. Therefore, you can gain more control of when the plant grows, buds, and flowers.
As mentioned above, specific phases of the plants' growth cycle require different spectrums of light. During the germination and flowering phase of the plants' development, the plants benefit from more blue light. With additional blue light, the plant focuses its efforts on photosynthesis and accumulating resources for reproduction. When approaching the seeding phase, increasing the amount of red light promotes rapid growth and helps the hemp and cannabis plants to produce seeds.
Other Benefits of LED Grow Lights
LED grow lights last longer than conventional grow lights (over double the life, and in some cases even greater)

10 to 20 times longer than dual arc lighting

LED grow lights use less energy than conventional grow lights, which saves you money on your electrical bill
LED grow lights do not emit as much heat as conventional grow lights – as much as 90% less!
How to Get Started With LED Grow Lights
LED grow lights (and grow lights in general) require more expertise than for people lighting. You need to ensure that you are receiving the most competitive lighting product, controls, and a setup that is specifically designed to optimize your plant growth, harvest, and profits.
At Logical Green Solutions, we can also provide you with lighting calculations and layouts to ensure that your lights are at the ideal light level for your grow and will not burn or over/under light the plants. Not only that, but we're not manufacturer-specific, and can also help to ensure that you are being told information that is true and correct by lighting manufacturers — we have seen blatantly false information being provided by manufacturers before. Always check what their DLC (Design Lights Consortium) approved data is versus what manufacturers are presenting on their marketing materials.
We are here to help you along every step of the way of operation. First, you need to know for what specific product you are growing for.  Second, determine your goal for size of canopy to achieve your goals. The next step is determining your specific grow areas and setup of each area. Once you know that, our team can determine the number of lights you require, the output of the light required, and how your lighting should be setup.
To get started, please give us a call at 262-547-1111 or contact us here. If you don't have an existing growing operation, Logical Green Solutions can also partner with our sister company Total Team Construction to bring you a complete package and make your job much, much easier.